---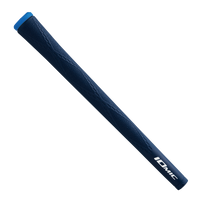 Sale
Iomic Grips are revolutionary because of their innovative IOMAX Elastomer. It's the perfect material for your grip, and here's why:
IOMAX is 100% water resistant! Yes, 100%. Think windshield wipers. These grips will not hold an ounce of moisture, helping to keep your grip dry and in contact all throughout your swing. In addition, the IOMAX is also completely UV resistant. This means no fading, drying, or cracking. These grips will feel brand new whether it's your first round or your 20th round.
The X-Evolution is the next generation X-Grip. A larger outer diameter and deeper X pattern give you remarkable traction equivalent to a cord grip. The X-Evolution delivers both accuracy and stability for superior performance.
Made in Japan
Diameter : M60 / Outer Diameter : 22.6mm (5cm from grip end) / Weight 50±2g / Torque : 3.0